10 Nov 2022
The most wonderful time of the year is quickly approaching. Do you have your holiday plans finalized? If not, now is the time to start making those plans, especially if you're traveling. More and more people are forgoing the holidays at home in favor of an unforgettable vacation.  
Hilton Head Island is a popular destination for the holidays due to the island's pleasant climate and abundance of activities. Spending the holiday season on the beach with friends and family is an incredible experience, and you can make it a reality with a bit of help from Beach Properties of Hilton Head. We offer a wide range of vacation rentals on Hilton Head Island and are happy to help you plan the holiday stay of your dreams.
Holiday Activities & Events on Hilton Head Island
Hilton Head Island has holiday spirit in spades. During the holidays, there are a number of exciting activities and events visitors and locals alike can partake in that helps get the community in a merry mood.
For Thanksgiving, there is an annual Turkey Trot, which has taken place on Hilton Head Island for over 30 years. There are two ways to participate in the Turkey Trot, the 5k race and the one-mile fun walk. Please register online. This classic Thanksgiving is fun for the whole family.
 If you're looking for Christmas festivities to enjoy, nothing will get you in the spirit quite like visiting Dove Street. After an 11-year hiatus, the community went all out with dazzling holiday light displays last year, and it is set to return again in 2022. It takes over two weeks for all of the lights to get set up, but once they're ready, Dove Street is truly a sight to behold. To check out the display, you can drive through Dove Street between 5:30 p.m. and 11:00 p.m.
 Last but not least, there's the Harbour Town Ball Drop. Spend New Year's Eve in Harbour Town, enjoying food, family activities, live music, and other entertainment. Then, as the clock begins to tick down, watch as the inflatable golf ball drops from the top of the Harbour Town Lighthouse to welcome in the new year. 
Beach Properties of Hilton Head Concierge Services
Do you need something to make your holiday stay on Hilton Head Island a little extra special? Don't fret; just ask us! Beach Properties of Hilton Head offers concierge services through our partner Concishare. Concishare can help you with a wide variety of services. Want to know what restaurants are open during the holidays on Hilton Head? They have you covered. Do you need a private chef to whip up a holiday dinner? No problem.
This holiday season, Concishare is also here to help give your Hilton Head vacation rental a more festive look and feel. Imagine arriving at your rental to find it decked out with a Christmas tree, garland, stockings, and other inviting holiday decorations! It's like walking into a cozy little winter wonderland and a great way to kick off your holiday stay on Hilton Head Island. 
Stay in a Luxury Vacation Rental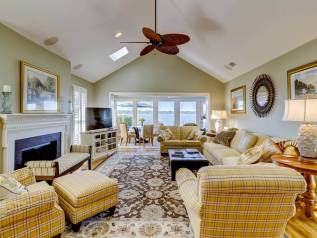 Make memories that will last a lifetime when you stay on Hilton Head Island during the winter holidays. Beach Properties of Hilton Head is happy to provide you with a well-appointed vacation rental that will serve as the perfect home away from home for the holidays. Browse our collection of vacation rentals on Hilton Head Island online or call 800-571-5155 to speak with a reservationist.