Many know Hilton Head Island for its endless beaches, but golfers know this region for some of the most striking golf courses in the nation. With beautiful year-round weather, you never need to wait until spring again to enjoy your favorite sport! Dust off your clubs and get back into the swing of things at these public Hilton Head golf courses. 
If you need help planning your trip, request a free copy of our 7-Day Itinerary for more local suggestions for the best things to do on Hilton Head Island! 
12 of the 

Best 

Courses on Hilton Head Island
Harbourtown

 Golf Links | Sea Pines
If you have yet to experience Hilton Head Island golf, then put Harbourtown Golf Links at the top of your list. It is the island's most famous course, and for good reason! In 2018, Golf Advisor ranked Harbourtown Golf Links the #1 course in South Carolina. The course is also home to South Carolina's only PGA Tour event, the RBC Heritage! Stunning views of Hilton Head Island's iconic candy-striped lighthouse await you at the end of this par-71 course. 
Atlantic Dunes | Sea Pines
Atlantic Dunes is another celebrated course in the Sea Pines community. It is a par-72 course surrounded by ancient oaks, palmetto trees, and thousands of indigenous plants that showcase Hilton Head Island's natural beauty. In 2018, the National Golf Course Owners Association named Atlantic Dunes the "Golf Course of the Year." Isn't it time that you discovered why? 
Robert Trent Jones | Palmetto Dunes
There are only two oceanfront holes on Hilton Head Island, and the Robert Trent Jones Course is home to one of them. You'll enjoy sweeping ocean views at the par-5 tenth hole! Although ocean winds present a unique challenge, this par-72 course is suitable for all levels of golfers. In 2018, the Robert Trent Jones Course was named the "Best Resort Course" by Golfweek Magazine. Local Tip: If you would like to play more than one round of golf at any of Palmetto Dunes' courses, multi-round golf packages are available to help you save. 
Arthur Hills | Palmetto Dunes
With its rolling landscapes, continuous lines of dunes, numerous waterways, and endless stands of palmetto trees, the Arthur Hills Course provides a new challenge around every corner. In 2017, the South Carolina Golf Course Ratings Panel named the Arthur Hills Course one of the "Best Courses You Can Play in South Carolina." We believe that this course's picture-perfect setting may have something to do with it! This course is also home to the beautiful Hilton Head Range Light, one of the Lowcountry's most historic lighthouses. 
George Fazio | Palmetto Dunes 
Although the George Fazio Course presents a challenge for every player level, its layout is relatively forgiving. You can look forward to great par-fours and challenging par-threes. It is the only par-70 public golf course on Hilton Head Island and a favorite among locals and visitors alike! 
More Great Courses to Play
When is the Best Time to Plan a Golf Trip to Hilton Head Island?
Many of the golf courses on Hilton Head are open year-round. Because you can plan your golf trip anytime during the year, the best time to visit depends on several factors! Careful considerations include what else you'd like to do during your vacation, how long you'd like to stay, and your budget. Read on, and we'll help you decide which season is the best fit for you.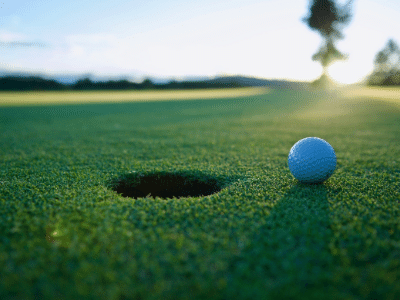 If you are looking to save money on your trip, winter is the best season to visit. Snow is a rare occurrence, and temperatures rarely dip below 40 degrees. During winter, you can also look forward to discounts on tee times and at local restaurants and area attractions. For those who would like to plan their golf getaway in an oceanfront home, you can also enjoy the benefit of shorter minimum stays.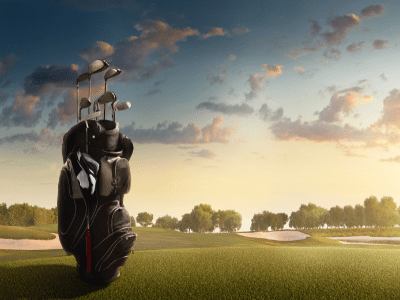 Spring is one of the most popular seasons for golf on Hilton Head Island. April welcomes warm sunshine and a variety of golf events, including the RBC Heritage Tour. During this tournament, you can look forward to golf celebrations and gatherings with fellow golf enthusiasts. April is also an excellent month to take advantage of shorter minimum stays before they increase for the summer. If you can't make your way to the island during April, May also boasts some of the most beautiful weather of the year. It is the perfect time to enjoy days full of non-stop golf before temperatures heat up for the summer!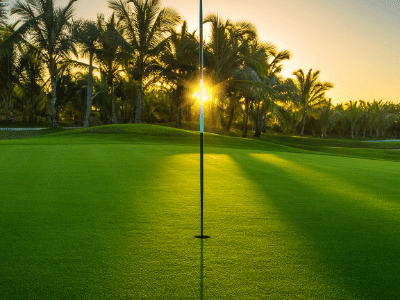 For those who would like to incorporate beach days into their vacation, summer is the best time to visit. It is also the most popular time of the year on the island, so remember to reserve your tee times in advance! Make the most of this time of year by getting on the course in the early morning: this is when you can enjoy the lowest temperatures of the day. Summer mornings on Hilton Head Island average in the low-70s and temperatures peak in the high-80s by the afternoon. If the beach is too hot, your own private pool is the perfect place to cool down afterward!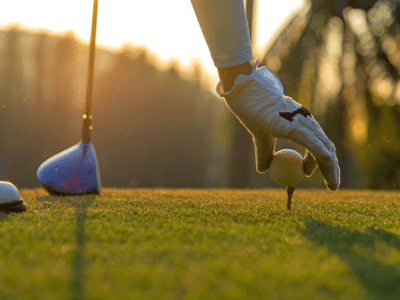 Golf enthusiasts all agree that fall golf is one of Hilton Head Island's best-kept secrets. When September arrives, the weather gifts these Carolina courses with lower temperatures, less humidity, clear skies, and some of the best course conditions of the year. As school commences for the little ones after Labor Day, you'll find fewer crowds on the beach. During this season, golfers can also enjoy lower rates on vacation homes, along with shorter minimum stays. 
Where to Take Care of Worked Muscles
Although golf isn't particularly strenuous, spending a few days on the green can leave you feeling sore. Keep your body feeling its best with a trip to one of the island's best spas. Take a look at our Spa Guide for handpicked recommendations on where to find the best massage on the island! Exclusive spa discounts are always included in your stay with Beach Properties. 
Food is one of the most important aspects of any golf getaway, whether you are fueling up for the day or unwinding for the evening. If you want to stay fit and healthy during your golf getaway, stock up on fruit, vegetables, fresh seafood, and other nutritious foods at one of the island's farmers markets. And, for a quick bite before hitting the course, we recommend grabbing brunch at Palmetto Bay Sunrise Cafe. Breakfast is served at this cafe all day, seven days a week! For more suggestions on the best places to eat, take a look at our Restaurant Guide. Here, you'll also find information on exclusive restaurant discounts for Beach Properties guests. 
Find Your Home Away from Home